3 & 4 years old ~ Full-Time Preschool Hours
From 7:45 a.m. to 3:00 p.m.
3 years old ~ Part-Time Preschool Hours
From 7:45 a.m. to 12 p.m.
VPK 4 years old ~ Part Time Preschool Hours
From 7:45 a.m. to 11 a.m. (Free)
Afternoon program offered 2018-2019 more information tbd
Morning Care 6:50-7:30 a.m. ($1 per day)
Alpha Extended Day is available from 3 p.m. to 6 p.m.
ALL students MUST be fully toilet-trained to be accepted into the Preschool Program.
Preschool History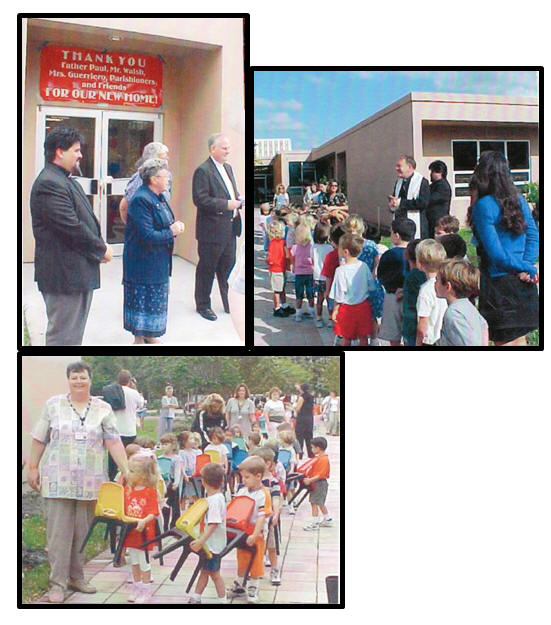 The opening of the Preschool wing, November 5, 2001. In 1995, the parish of SJV expanded its school mission to include a preschool. Under the leadership of Sr. Elizabeth Murphy, our school principal and Ms. Celeste Smith, an SJV graduate, PK teacher & parishioner, our preschool opened in the Ministries Building, where it thrived and grew for 6 years.
On November 5, 2001, our preschool moved into its new classrooms, a mini-campus in the heart of St. John Vianney School at the end of the Administration wing. Bishop Norbert Dorsey attended our moving day celebrations, along with our Pastor, Father Paul Henry and our Associate Pastor, Fr. Miguel Gonzalez. The preschoolers picked-up their colorful chairs and carried them to their new home.
Since its inception in 1995, our Preschool has fostered an environment that nurtures the whole child.  Abundant learning activities inspire creativity and encourage growth in social, cognitive, physical and spiritual development.  Faith, knowledge and a positive self-esteem are enhanced in an atmosphere of love and trust.  Most importantly, the children learn about Jesus and the Christian values he taught.  These values form the foundation on which each child will build their life.